Your Shopping Cart
Welcome

Guest

Your Cart Is Empty
Shop By Category
Program Tools

CLONING TOOLS

Transponder Key

Transponder Chip

Locksmith Tools

CUTTING MACHINE

Lock

KEYDIY

REMOTE MASTER

House Key Blanks

Key Case Rubber

OTHER PRODUCT

security cameras
Nissan SuperCode Software
Description:
NISSAN Super Code
Use this software to convert the Body Control Module Serial Number on the vehicle to the Actual PIN Code for the vehicle.
A tester is required to program the key.
Several models now have these Body Control Modules that have their own unique Serial Number. In most cases just pop the fuse panel door and read the BCM S/N on it and use the Nissan SuperCode software to convert it to the PIN Code needed for programming new or additional keys.
Works on WIN-98, WIN-ME, WIN-2000, WIN-XP.
Support all of this :
Altima 2001-2004
Altima 2005
Armada 2004-2005
FX35/FX45 2004-2005
G20 2000-2002
G35 2003-2005
I30, I35 2000-2004
M45 2003-2005
Maxima 2000-2005
Murano 2003-2005
Pathfinder 2001-2005
Quest 2004-2005
QX4 2001-2004
Q45 2002-2004
Sentra 2000-2004
Titan 2004-2005
350Z 2003-2005
GUIDE:
look the 5'Digit BCM number from the BCM box,and input to this software ,then click the Calculte pin button ,the software will calculte the pin code to you after few minuts.about the nissan car which is old type, we can give you a factory password together with this software .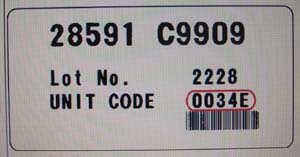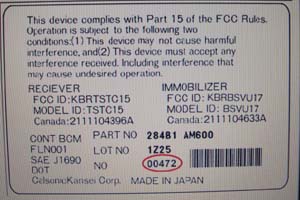 IF you want to order NISSAN transponder keyblanks then please visit this page:
www.keymam.com/transponderkey.asp
Other Products